Ming Yan Seafood Menu Format: 16.25" x 8.25 Menu | Completion Time : 2 Days | Completion Date: February 19th 2016 | Number of Revisions: 3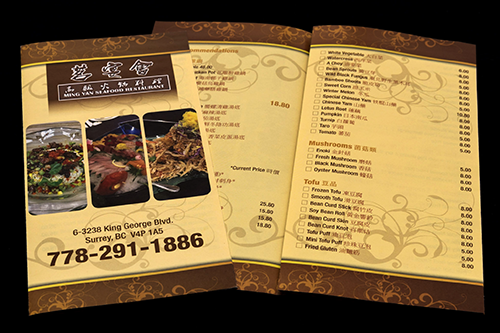 Side 1
|
Side 2
Outline & Provided Materials
This job was through DRMG, a sales representative was communicating with the client directly and relaying the details of the project to me. To date I think this has been the most challenging and time-consuming design project. The client provided us with a scant paragraph of text, a folder filled with images and four scans of an existing menu included in the next section.
Method
This was a tough one. The biggest hurdle with this one was the Chinese characters. To date I had only ever dealt with English characters, or provided Chinese text, never with having to actually obtain typed Chinese characters. The sales rep told me that there was no way the client could provide the text, and instead to take jpegs of the Chinese text fromthe provided images and paste it adjacent to retyped English text. I knew I was not going to do that, not only would it look absolutely awful, but some of the text was cut off or obfuscated. I knew I could digitally extract English characters through character recognition software, I figured it wouldn't be too much of a stretch to assume there were tools that did the same thing for Chinese characters as well. I tried a few different engines with varying results,
New OCR
was fine, but wouldn't read the kanji for "water" properly (instead spitting out "7k" each time the character appeared), I tried
Online OCR
which was little better, but still missed some characters. Finally I tried Google's built in OCR, which turned out to be the best, and by cross referencing with the other two I managed to get a good 90% of the characters. To actually get the right parsing I had to chop up each page of the provided images and run them through the character recognition separately. Then I had to organize the sections in what I assumed the desired order was, and double checked all the characters to ensure they were correct. At the same time I also caught many English spelling errors and grammatical nonsense as well. Wherever the characters were incorrect I would first check with a translator, inputting the English text to see if I could get the correct character to show up that way, and then failing that I would insert an X and see if we could get the client to provide the one or two missing characters. Assuming that while they might not be able to get an entire menu typed, they could probably find someone who could at least text us four or five characters.
client supplied file
client supplied file
client supplied file
client supplied file
The character recognition, copy text proofing, typesetting and design took about 2 days, bear in mind however, I was also working on other projects concurrently. However, after the initial bumps it was pretty smooth, no major changes to the design (except some front page edits & the lack of a high resolution logo). A few minor text changes, allegedly some of the characters had been incorrect on their initial menu.
Reflection & Client Reaction
Looking back on it, I'm glad I did it (I even learned something new in the process!) But it was extremely grueling, proofing for hours is not something I enjoy in any facet, and I was also very afraid while working on it that I would put in an erroneous character, it would make it through proofing and it would warp the meaning of the menu. Luckily the client was very scrupulous and made sure to check everything. In retrospect I wish I had time to rebuild the client's logo, the entire menu is kind of nice looking except for their low resolution logo. Unfortunately time constraints prevented me from doing so. Perhaps, if I have some time in the future and find myself working on it again I will go back and fix that!